Hi. Welcome to the Optimistic Underground album of the year list. I think it's safe to say that 2020 has been a disaster. Regardless, I feel spoiled by all the incredible music we got this year. It's meant more than ever to me. I almost quit this blog because it felt so unimportant in the face of everything, but the music kept me going. It's corny, but it's true. So here we are.
I don't want to go over a checklist of all the things we've got in common, beyond the pandemic. I do want to take a moment here to say that the year has taken a toll in ways that I wasn't always prepared to handle – my father died suddenly, someone close to me tried to commit suicide, and my son was diagnosed with a medical disorder that we're still grappling with and seeking a permanent treatment. This was on top of some health issues, sudden home schooling, and plenty of stuff that doesn't need mention on a music blog. I'm here to share some of the best music I heard all year, because I think it all deserves to be heard by as many people as possible. I want these beautiful artists to connect with the people who will appreciate them most, and vice versa. Because despite all the hard things that have happened this year, both to myself and the world at large, I'm looking at the final stretch with warmth in my heart and a small core of confidence that, while things may not always be alright, I can definitely handle it when they get rough – and I'll be here for my family and friends no matter what.
So, in light of how tough I'm sure it's been for most of us – because the pandemic isn't stomping on us in a vacuum, it's piling on top of everything else we all have to face every day – I decided to forgo numbering the albums this year. It's always felt a bit cruel to pit artists against each other in that way, make the arbitrary distinction that one album is better than another, and it's been downright painful having to make those choices at the end of every year. I love this music and these people and I can't speak for anyone's taste but my own. It's always been the case here, but I want to make this explicit: I don't believe these albums are objectively the best of anything; that doesn't exist. I do believe that everything here is incredible and touched me on some level, emotional or intellectual or physical or whatever, and I need other people to hear it too, to feel elevated and healed like I do. Because this is healing, and these albums all played a part in keeping my head above water in 2020. If it wasn't for this music, I don't know if I'd be in such an okay place by now.
[Update: don't miss 50 More Best Albums of 2020]
I did include a top ten at the very end, because even among this incredible crop, there were a handful of albums that touched my soul like nothing else. They're not ranked either. I just want to warn you and tip off the folks who have to see number one first :)
Here we go. Albums are listed in the order I first heard them:
• • •
Beatrice Dillon – Workaround
Lightly experimental, heavily playful combination of skeletal techno and spiritual jazz. The interplay of saxophone, tablas, steel pedal guitar, and Dillon's fractal beats makes for an instantly iconic palette, and repeat plays reveal a warmth and sense of songcraft that ties everything together into a cohesive singularity.
Listen and buy on Bandcamp.
• • •
Green-House – Six Songs For Invisible Gardens
Olive Ardizoni has crafted a fantastical set of synth environments as full of wonderment and childlike naivety as they are lushly rendered and grounded in earthen simplicity. This is electronic music for daydreams, lullabies, and setting off into some Ghibli-esque mysterious forest.
Listen and buy on Bandcamp.
• • •
Eris Drew – Fluids of Emotion
Eris Drew's ebullient dance monster spelled out so specifically what I always seek in a great piece of electronic music. In just three tracks, she's crafted some of the best dance music I've heard since her partner Octo Octa's big release last year. It's a beautiful storm in itself, but also a means to an end, a delivery vehicle for a state of mind outside normal life. Buying the ticket, taking the ride, leaving everyday consciousness behind. There's a reason the centerpiece track here is called "Transcendental Access Point."
Listen and buy on Bandcamp.
• • •
Gigi Masin – Calypso
When I discovered the music of Gigi Masin half a decade ago, it was like somehow discovering my favorite flavor of ice cream well into my thirties: "oh wow, this is that taste I've always wanted but never knew existed!" He combines the plaintiff and sumptuous and emotional and heady edges of ambient music, folding it all into hard-earned songcraft and aural environments anyone would be happy to spend eternity inside. This latest release, a jumbo sized distillation of everything he's done well over the past three and a half decades, is as much the definitive portrait of Masin as his iconic 1986 debut, Wind.
Listen and buy on Bandcamp.
• • •
Lyra Pramuk – Fountain
Remember when Björk made that album constructed entirely of human voices, Medulla? How her and producers Matmos transmuted a galaxy of throaty singing, grunts, beatboxing, and every other permutation of her gorgeous voice into a diverse, detailed album of seemingly electronic music? Lyra Pramuk has taken the concept up a notch for her debut album, dropping cathedral sized emotions and a sense of human warmth into the uncanny valley – everything here feels so heightened and hyperreal, yet undeniably anchored to relatable concerns of the heart.
Listen and buy on Bandcamp.
• • •
Thundercat – It Is What It Is
Thundercat has always been a funk & jazz bass guitar virtuoso, making music that sounded like it was as fun to make as it was to hear, but it wasn't until 2017's Drunk that he emerged as a genuinely great songwriter. Now, he's jumped up another few levels and dropped some of the warmest, funkiest, easily replayable music all year with an all-star team for backup: Steve Arrington, Flying Lotus, Lil B, Steve Lacy, Kamasi Washington, and so many more. He even steps right past the Doobie Brothers worship of the prior album and into his own heartfelt realm of superior dad-funk that feels as original as the 70s legends it was influenced by – while sounding unmistakably modern.
Listen and buy on Bandcamp.
• • •
Leo Takami – Felis Catus and Silence
Leo Takami masterfully blends the soothing aesthetics of peak Windham Hill style new age guitar meditations with ambitious structures reminiscent of the best modern classical composers, such as Steve Reich or John Adams or Philip Glass. This playful, understated collection proudly displays its lineage from the worlds of jazz, classical, and Japanese gagaku, the cumulative effect feels like carefully constructed ambient music of the highest order.
Listen and buy on Bandcamp.
• • •
DJ Python – Mas Amable
This year, DJ Python took his inimitable "deep reggaeton" style and applied it to a towering latticework of minimal techno, an elegant construction akin to the monumental genre touchstone self-titled Voices From The Lake album. It's music that requires a full listen for the full effect and demands your full attention – anything less and it may come across wispy or weightless, which couldn't be further from the truth of Mas Amable. Headphones or high volume recommended.
Listen and buy on Bandcamp.
• • •
Asa Tone – Temporary Music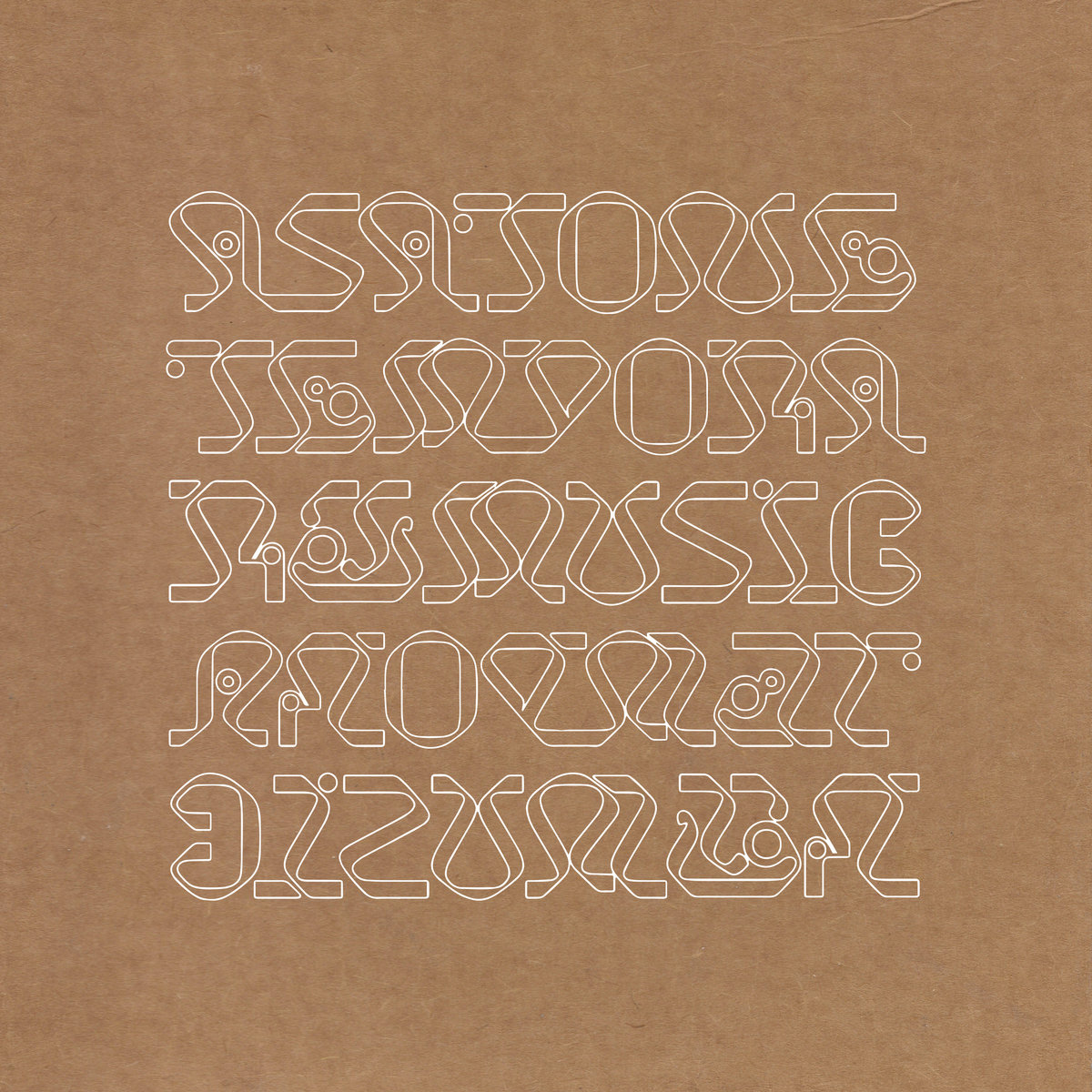 I'm at a loss as to how to sell Asa Tone in a brief setting like this, so I'm just going to paste the short & punchy Bandcamp description:
"Asa Tone is Jakarta-born Melati Malay and New York based Tristan Arp and Kaazi. In January 2018 the trio travelled to Indonesia during Melati's annual return home, set up a temporary studio in a house nestled in the jungle's canopy and recorded a series of improvisational pieces together, later edited for brevity. The music incorporates both digital and analogue processing and largely draws upon the groups collective voice, a small selection of instrumentation (Rindik, Moog Sub 37, Infinite Jets, Suling) and their immediate environment. Despite this, they aimed to record a kind of music together that doesn't seem to come from one specific place, but instead, from everywhere.
The result is an idiosyncratic voyage of equatorial excursions in voice, mallets and synthesis, both transportive and fluid, yet firmly grounded in the earth. Cyclical, randomized patterns grow and blossom during these often delicate and heartfelt renderings, staying with the listener long after both sides fall silent."
Listen and buy on Bandcamp.
• • •
Kaitlyn Aurelia Smith – The Mosaic of Transformation
I've been into Kaitlyn Aurelia Smith since the beginning, but this year she finally cracked the code to take her signature sound to a new level of joy and sensory bliss – she blended the complex synth structures with the easy peace of pure meditation music, and the result is a compact but powerfully kaleidoscopic excursion into deep space and deep mind states.
Listen and buy on Bandcamp.
• • •